AWAKEN: Willingdon Women's Day Retreat
Event Title:  Women's Day Retreat: AWAKEN
Event Date:  Saturday, April 22nd, 2023
Event Time:  9:00am to 4:00pm (doors open at 8:30am)
Event Cost:  $40.00
__________________
My heart is steadfast;
I will sing and make music.
Awake, my soul!
Awake, harp and lyre!
I will awaken the dawn.
Psalms 57:7-8
Come spend a day with us and other women to enjoy some activities, conversations, meals, meditation, prayer, worship and hearing God's word as shared by CJ Limvalencia and Emmy Caramay.
CJ leads us in worship every weekend, this will be an opportunity for you to hear her testimony and moments of awakening in her life and God's faithfulness through it all.
You may have seen Emmy running around with her four beautiful children or as a ministry leader, Emmy will spend time talking about spiritual disciplines and how she cultivates healthy rhythms in her busy daily life.
Your day will also include refreshments all day, a beautiful brunch, a variety of activities to choose from and a special swag bag filled with gifts from Willingdon Church.
We are hosting this event as we re-AWAKEN women's ministry at Willingdon, and we would love for you to be a part of it!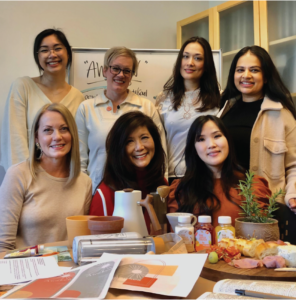 With love on behalf of our committee
CJ Limvalencia
Emmy Caramay
Laura Doan
Jesed Young
Randi Skaggs
Judy Harms-Wiebe
Penny Fuchihara
Registration Information
Date: April 22, 2023
Time: 9:00am-4:00pm – Doors open for coffee and pastries at 8:30am
Location: Willingdon Church
Cost: 
The cost for the Main Sessions is $40
Your day includes the Main Session and refreshments all day, a beautiful brunch, a variety of activities and a special swag bag filled with gifts from Willingdon Church. (There is also a bonus fitness activity at 7:45am for early risers -read more below) 
– Plus –
"Your Choice" Added On Activities  $0 to $20 each depending on the option you select for the morning and afternoon. (Read activities descriptions below.) Activities are registered on a first come first serve basis, you may be asked to swap your activity. Register early to secure your spot. (deadline is April 10)
Please note:
You are welcome to register on behalf of other women. Please make sure your guest's own name is entered under the "Attendee" section when you complete their registration. 
Please confirm you (and any guests) are attending before registering. We are unable to provide refunds to registrants due to tight ordering deadlines.
Registration with cash, cheque and debit is available in the Resource Center. 
Day Retreat Information
Schedule of Events – Doors open for coffee and pastries at 8:30am
9:00am – Worship and the Word
10:30am – Activity One
11:45am – Brunch
1:00pm – Panel conversations
1:45pm – Activity Two
3:00pm – Worship and the Word
4:00pm – Closing
Add-On Activity Details:
There will be two breakout sessions where you can participate in an activity of your choice. Please make sure you select an add-on for both the morning and afternoon activity sessions to let us know in advance how to prepare.
Please choose TWO from this list of activities. (ONE for the Morning and ONE for the Afternoon)
Coffee Appreciation Tasting – No Charge
In this session we'll be exploring why certain coffee tastes the way it does, the different characteristics of coffees from different regions, a super simple buying guide and even a tasting! If you want to enjoy a cup of coffee just that much more and awaken your senses, this is the place for you.
Outdoor Prayer Walk – No Charge
Step out into nature and be refreshed and renewed as you walk and pray together with other women or on your own.  A guide will be provided with suggested prayer prompts and prayer requests.
Self-Defense Class – No Charge
Learn self-defence with the goal to empower you to feel confident in your daily life through self-defence skills.  This class will be led by a Registered Clinical Counsellor, self-defence instructor, and Shotokan Karate Black Belt Trainer.
Worship and Stretch Class – No Charge
Enjoy relaxing to worship music while learning how to stretch for better day-to-day living. We will facilitate muscular relaxation, alleviate tension, and improve mobility.  This will be led by a personal trainer and kinesiologist.
Silent "Awakenings" – No Charge
Take a stroll through this special room and experience the themes of "Awaken" as you quietly reflect on how God is desiring to awaken you.
ME time
Sometimes it's wonderful NOT to schedule anything!  Choose this option to take a break on your own, to catch up with friends or to spend time alone with God
Home Beauty Remedies – $10.00
Want to try spa day in a new fun way?  This workshop will give you new ideas on how to do that with simple ingredients you can find around your pantry or fridge!  You will make and take your DIY beauty products home.
Watercolour Painting – $10.00
Come awaken your creativity through the beauty of watercolour! In this workshop, we will cover the basics of watercolour painting and create a beautiful piece of art that you can take home.
Herb Garden Make and Take – $20.00
In this session, you will learn a bit about herbs and create your own container garden full of these delicious, useful plants to take home.
The Art of Charcuterie – $20.00
Become your very own charcuterie artist with a step-by-step build-your-own tutorial.  Learn industry tips and tricks on board assembly and master the iconic meat rose!  You will take home your own boxed charcuterie masterpiece!
Early Risers: Awake and Shake – Morning Fitness Classes
7:45am to 8:30am
If you are an early bird, please come and join us for one of two fitness classes
HIIT Workout
A full body HIGH INTENSITY INTERVAL TRAINING workout to steward your physical health and the bodily temple God so wonderfully created us with. Led by a certified personal trainer and kinesiologist.
Pilates Low Impact Class
In this session, we'll introduce some basic Pilates techniques and principles, and work through various exercises that help support everyday functional movements.  Whether you're new to Pilates or are looking for a fun, low-impact way to exercise, this session is for you!  Led by a certified Pilates instructor.
Other Questions?
Come by our kiosk in the Lobby on the weekends. we would love to answer your questions.